John Oxley Restoration
Update July 2008
Supporting the project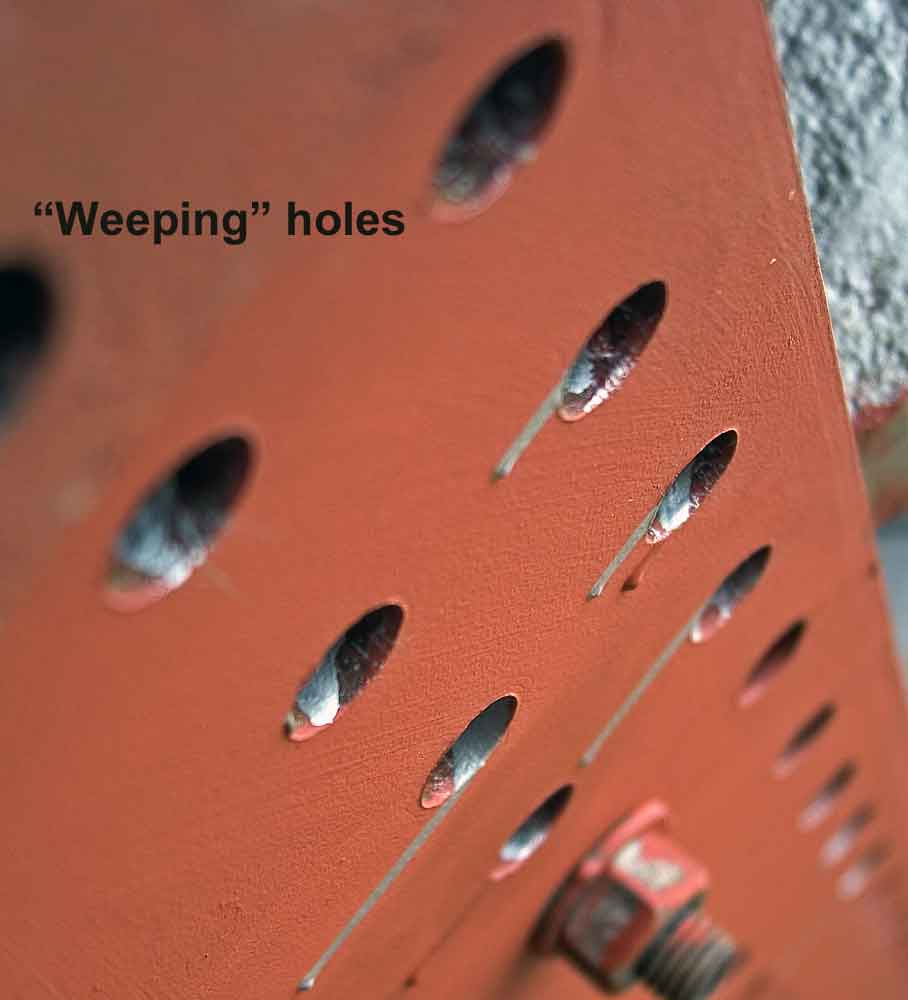 We have some very special vessels, but probably our most valuable asset is people!
There is firstly the need for certain people to become inspired to start and then develop a project. Then along come people to undertake physical restoration – our fabricators, engineering types, painters and restorers.
We also need people to promote and to sponsor the project – those that are enthused and build active support. These people work on the project less directly, through supply of goods and services, through assisting us through complex government legislation, and through direct injection of funds.
Along with the planned refloat of John Oxley, we need to expand the project to work on the boilers, uptakes and engines, replacing the main deck and attending to fit-out and survey. To do this, additional people are needed – chippies, engineering types, deck crew, electricians, plumbers, painters to name just a few. But we will also need fund raisers, supporters and sponsors.
Volunteers and volunteering
The core skills needed to restore and then operate heritage ships are diminishing in the broader community. A vital part of Sydney Heritage Fleet work is the preservation of traditional skills through restoration work on actual heritage vessels and much of this work is learnt and practiced by keen and enthusiastic volunteers.
Heritage Fleet volunteers come from all walks of life and consists of both the young and not so young. We have men and an increasing number of women on site – all are united by the drive to progress work on John Oxley.


Some of our workforce bring valued ship repair or similar skills to the project – many others turn up and quickly learn useful skills on site that makes them totally productive volunteers.
Those who wish to join up should contact our office on 9298 3888 and ask to attend our next tour group. Main work days are Tuesdays, Thursdays or Saturdays – visit on one of these days and ask to speak with one of the team leaders.
Refurbishment of John Oxley's boilers
The project was successful in obtaining a grant from the Heritage Commission for the initial conservation of the two 12'6″ (3.8m) diameter scotch marine boilers on board John Oxley. This grant, under the Kick Start grants program has initiated a very successful fundraising activity and a very successful restoration activity.
The project is aimed to protect, evaluate and commence restoration on both boilers. The initial task was to ensure the considerable weight of both boilers was safely supported on replacement or overhauled foundations, see "lifting the boilers". The two boilers were then cleaned, de-scaled and protective coatings applied.


All valves and fittings were removed and an extensive ultrasonic thickness test grid of the boiler shell, furnaces and combustion chambers was undertaken.
The boilers have been initially surveyed by a licensed boiler inspector and deemed repairable. Feasibility meetings have also been held with the NSW Maritime Authority.
Restoration of John Oxley to steaming condition is the eventual objective – the positive reports generated from this activity have been of inestimable value to the project.
Most importantly, Mr. David Dowling of NSW Boiler Inspections has inspected the boilers and has deemed them repairable to operational condition. 

Boiler work undertaken
| | |
| --- | --- |
| • | With the boilers lifted and their stools removed, the boiler shells here were descaled, conserved and assessed. |
| • | A combination of paid and volunteer workers needle gunned the exterior of each boiler and has applied initial protective |
| | coatings. These preliminary coatings also had to permit ultrasonic thickness testing of boiler shell steel. |
| • | HVT Inspections produced a comprehensive ultrasonic thickness test grid of the boiler shell, furnaces and combustion |
| | chambers (donation). |
| • | HVT Inspections revealed possible faulty pre-1968 repairs aft lower flanging. HVT and will radiograph test here at a later |
| | date. |
| • | Volunteers have scaffolded up areas of the boiler. This has allowed complete removal of all remaining boiler shell |
| | valves. |
| • | Workshop volunteers overhauled all doors, valves and shell fittings from the port boiler and have almost finished |
| | overhauling the same from the starboard boiler. |
| • | Boiler room surfaces have been initially cleaned. Frames, floors and plates have been extensively replaced with grit |
| | blasted and pre-primed steel throughout. Remaining structures were descaled, primed and painted. |
| • | Initial surveys by Inspector was carried out on the boiler and has declared them repairable for service. Inspector has |
| | revised earlier perceptions that not all fire tubes should be removed, and a smaller number only should be replaced at a |
| | later date following detailed survey from the fireside only |
Images of boiler and related repairs
Repairs to rudder and steering mechanisms
While John Oxley is on the Sea Heritage Dock, the steering gear and rudder has been dismantled for inspection and repairs have commenced.
The upper rudder post needed building up where corrosion had taken place. Loss of metal was most evident inside the rudder head bearing and either side of the tiller arm.
A welding procedure was devised by project supporters the WTIA (Welding and Technology Institute of Australia) and with the approval of our survey authority, the NSW Maritime Authority, repairs commenced. 

First task was to build a roller support frame that allowed the job to be rotated for staggered welding.
Workshop volunteers then devised an in-situ grinding jig to produce a true cylindrical surface at the upper rudder head bearing area.
This surface works in a grease lubricated hardwood bearing. Part of the original problem was that grease lines had broken, and the bearing was no longer getting any grease, hence the high level of wear and corrosion.
Similar repairs have taken place on the tiller arm, where wastage had also taken place.
A new quadrant has been fabricated and riveted together. When the remaining defective steering components have been repaired, the pad welded sections will be crack tested to see if any surface and sub-surface defects remain.
Hull
85% of the plates have been made and about 65% are riveted. These numbers understate the progress that has been made as a number of A-strake plates have been pre-flanged for the keel. Also additional structural riveting has been done inside the hull and, where needed, inserts have been made into some floors in the engine room.
A-strake
During the repairs to A-strake, the keel supports were removed in some areas. To take that pressure back on the keel blocks, steel shoes have been made, lined with timber, that are placed between the keel and the keel blocks. Wedges are hammered in to make the shoes take the pressure back on the keel blocks.
Work on the Garboard strake is proceeding with caution around the engine room. The main engine has been shored -up with additional supports to the dock to relieve the pressure on the bar keel and A-strake. Even so, we are only removing one plate at a time. Bending the keel flange of the A-strake plates was a challenge. The bending rig underwent a number of modifications during the learning process. See also "Bending A-strake"
A number of floors, intercostals and frames required attention. Inserts were made and welded into them to make it sound. While these plates were removed we used the opportunity to clean-up the floors and structures under the main engine. Slurry blasting was used to remove 80 years of grime. The downside of this process is that the engine's crank bearings will have to be overhauled as some of the grit may have entered the bearings.
The 1 inch keel rivets are turned in the shipyard workshop by Bill from round bar stock. Unfortunately, the stock supplied had a tensile strength that was too high for riveting purposes. Rivets need a low grade steel like 10/10, anyone that has 9 metres of 1.5 inch rod of this grade for the remaining 140 rivets, please contact our office on (02) 9298 3888 and tell them it is for the John Oxley.

Bilge docking blocks
No attempt has yet been made to shift these blocks to repair the plates underneath. This concerns the centre plates on C and D-strake. The rest of the plating structure will be completed, in particular A-strake, before removing bilge blocks and changing the support of the hull. Preparations have been made to fabricate additional supporting bilge docking blocks for when this time arrives, later in 2008.
We are approaching a critical period in the restoration where components for the engine room need to be inserted into the hull before it is completely closed up.
Bunker hold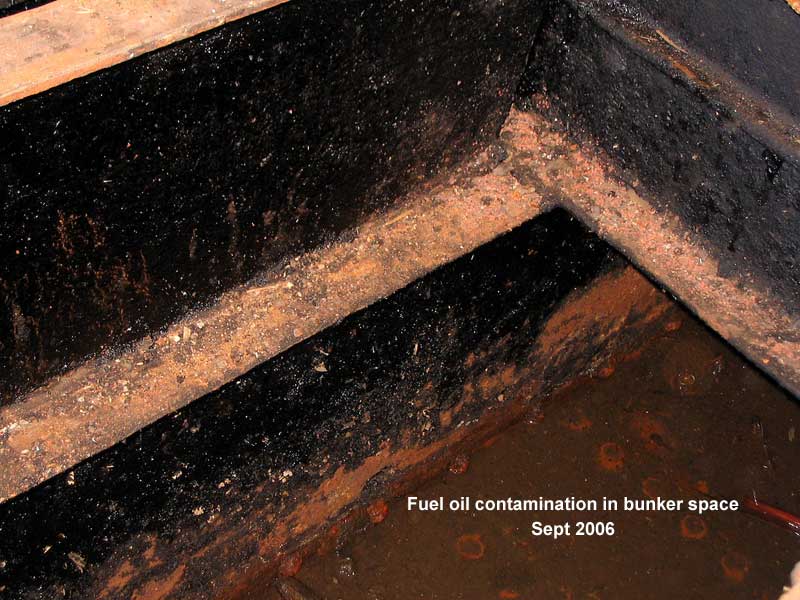 The floors in the bunker were coated with a tarry residue from when it was used to contain the oil tanks to fire the boilers with heavy fuel oil. After several methods were trialled, slurry blasting removed most of the residue. Work has proceeded to replate that part of the hull and the bulkheads on either side, frames 45 and 54.
Aft peak tank
Most of the concrete lining of the aft peak tank has been removed. The space still needs needle gunning before the plates on the counter can be fitted.