History of John Oxley
John Oxley was built in 1927 by Bow McLachlan of Paisley in Scotland. She was built to the order of the Queensland Harbours and Marine Board and steamed out under her own power for service as pilot vessel in Moreton Bay and as a buoy tender and lighthouse tender along the Queensland coast.
John Oxley was built in riveted steel with teak decks. She is a typical coastal steamship with raised forecastle, well deck, machinery and navigation midships and accommodation aft. She has two boilers and a triple expansion steam engine.
She was originally coal fired but was converted to burn oil in 1946.
John Oxley was taken over by the RAN during WW II for use as an examination vessel. Her requisition terminated in 1943, however she continued to be manned and operated by the RAN until 1946 when she returned to full Queensland Harbours and Marine control and operation.
John Oxley continued in service until 1968 and was officially donated to Sydney Heritage Fleet in 1970.
For her 80th birthday celebration in 2007, the Provost of Renfrewshire Council, the council area of Paisley where she was built, sent a congratulatory message.
Sydney Heritage Fleet Acquisition/History
The Queensland Government had intended to scrap John Oxley, but instead, donated her to the fledgling Lady Hopetoun and Port Jackson Marine Steam Museum. A museum crew went to Brisbane to prepare John Oxley for the delivery voyage and steamed her down the coast to her new home in Sydney arriving on August 17, 1970.
The museum steamed John Oxley a number of times, however, concerns regarding the state of hull plating caused her to be laid her up. Restoration had continued funds permitting from time to time. She has been docked twice by the museum to secure the hull, however, restoration of the 1874 barque James Craig had been the primary restoration project from 1970 to 2000.
In January of 1997 James Craig was refloated and John Oxley docked in her place. See docking.
Ships Data
| | |
| --- | --- |
| Built | 1927 to Lloyds 100A1 |
| | Bow McLachlan & Co. Ltd. |
| | Thistle Works, Paisley, Scotland |
| | Ship SS No. 464 |
| Launched | Wednesday, 20th July, 1927 |
| Length | 168 feet (51 m) |
| Beam | 32 feet (9.8 m) |
| Depth | 15 feet (4.6m) |
| Tonnage | 540 gross tons |
| Displacement | 760 tons |
| Speed | 14 knots |
| Propeller | Stones manufacture – 4 Bladed, 10'6″ (3,2 m) diameter by 12′ pitch, cast iron hub. |
| | Manganese bronze bolt on blades |
Construction
Well-deck steamship with main hold, a riveted steel hull and a superstructure to boat deck. Captain's cabin and wheelhouse in teak, crew accommodation and mess in forecastle, officers accommodation and mess midships on the main deck, pilots accommodation aft below deck. Teak decks throughout. Two 24 (6 m) clinker whalers for pilot transfer in davits plus additional 14′ (4.3 m) dinghy also in davits. Bow McLachlan steam windlass and anchoring through hawseholes, cargo winch and mast/derrick cargo handling gear was originally driven from the windlass, however, a Clarke Chapman steam winch was added here.
Propulsion
•
Two coal fired scotch marine boilers each with three
furnaces., dimensions 12'9″ internal diameter, by 11'3″ long and weighing
around 30 ton each. Working pressure 180 psi.
•
Michell thrust bearing by Michell Bearing LTD, transfering propeller thrust
to the hull
•
James Howden forced draft and Brundrits boiler circulators
•
Triple expansion steam engine 17.5″+ 29″+ 48″ x 33″‑ 1400 IHP (Indicated
Horse Power) Surface condensing
•
Dawson & Downie air pump, general service pump and bilge ballast pump
•
Weirs main feed pumps and float tank, Matthew Paul circulator
•
John Kirkaldy feed heater and filter
•
Bow McLachlan steering engine in bridge with rod and chain to quadrant.
•
Sisson steam engine driving a Crompton 8KW 110 volt DC.
•
Reader steam engine driving L. Sterne refrigeration set,
Caird and Rayner evaporator (now removed)
•
Sees ash ejector by Trewent & Proctor (removed when oil fired). Converted
from coal to oil firing by Sergeants in Brisbane in 1947
•
Sanitary pump by Dawson & Downie was also fitted but has been replaced
by a number of pumps over the years
Crew
Master, Mate, Leading Hand, Chief Engineer, Second Engineer, three firemen, and four deckhands, cook and a steward. Accommodation for up to 14 Pilots. A Third Engineer and a trimmer were carried on longer voyages.
Technical Significance – Superstructure
John Oxley was never modified and retains her original layout and configuration. Many similar ships have been extensively altered and re-engined.
John Oxley is especially valuable as she is a very conventional and typical ship of her time (straight stem, counter stem, raised forecastle, well deck, raised boat deck, machinery amidships, tall funnel, and with accommodation aft). She has six watertight compartments and a tunnel space.
Well deck, cargo winch and derrick are significant being a typical rig for cargo handling during the earlier part of this century. The same can be said regarding her boats and their handling. Teak decks were also laid on most ships from this period.
John Oxley is riveted in steel using the conventional in-out plating system. The ends of each plate are lapped and have no butt straps. Her frames are the more modern and lighter joggled system (no packers at out strakes). She is a single bottomed vessel with no tank tops.
Fit out for crew and for officers/pilots are of typical quality for the period. The cabins, washrooms, mess and pantries for officers and pilots in particular have varnished Queensland Maple paneling and furniture. This timber was shipped to Scotland by the Queensland Government, especially for John Oxley.
Technical Significance – Propulsion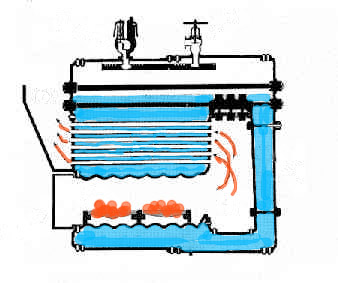 The layout of two boilers athwartships with a triple expansion steam engine is very typical of marine engineering from this period. This machinery layout was used for most of the many thousands of small steamships that no longer exist.
Originally coal fired, John Oxley retains her coal burning furnace fronts with a commercial conversion for oil fuel built and installed by a local company, Sergeants of Brisbane, in 1946. As such she represents two technologies. As an oil burner she is significant in that she combined Howden's forced draft with a locally manufactured oil fuel conversion.
Note that John Oxley burnt heavy fuel oil, which was once a common marine fuel, but today is no longer available.
John Oxley has a comprehensive set of steam-powered auxiliaries. These include the usual condenser (fabricated), independent air, feed, circulating and bilge pumps, feed heater/filter, FD fan, air beater, a 110 v. dynamo, L. Sterne ammonia refrigeration set, steam steering engine and a sanitary pump. Her layout is very typical of marine engineering of the period.
John Oxley has a propulsion system that would adequately power a considerably larger vessel.
Restoration of the John Oxley commenced in 1982 and continues today by Fleet volunteers. In this respect the Fleet is fortunate in having, in its Records Centre, many of the original 1927 drawings  produced by Bow, MacLachlan & Co. Ltd. in 1927