Volunteering on
John Oxley
.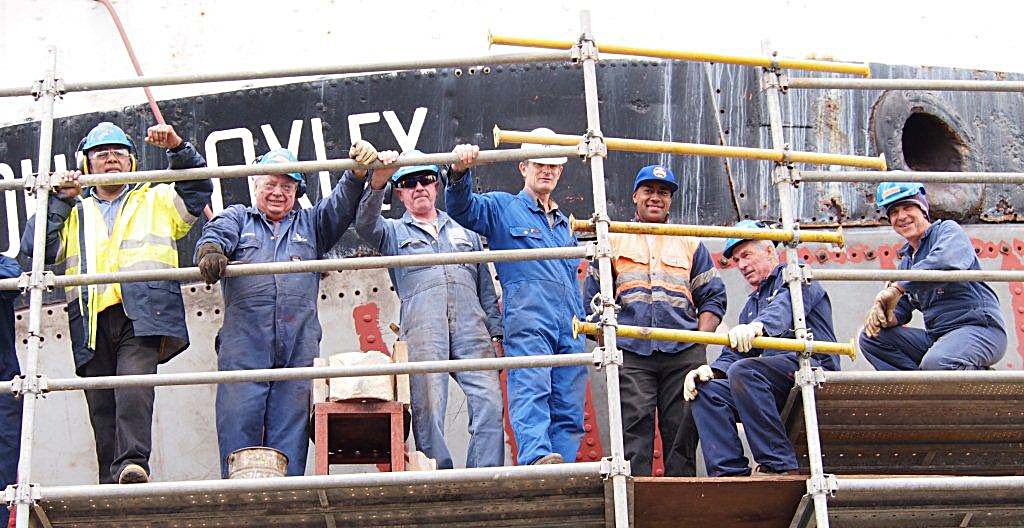 Sydney Heritage Fleet prides itself in being a community-based organisation that restores and operates our maritime heritage.
Our volunteers have a proud track record of restoring our maritime heritage.
Volunteers are critical to the success of this project and  provide practically all labour. They also supply much of the expertise needed to restore a 1927 steamship.
On the John Oxley restoration, our volunteers contibute over 30,000 hours each year – This represents well over $1.5M in support each year – Truly an amazing contribution!
Volunteering with the Fleet gives many benefits – There is the social benefit of working with other like-minded people plus the physical and personal benefits of working on our project.
.
The project is recruiting in these areas –
.
Metal and Engineering
This team cuts, grinds, drills, welds and rivets. They transform steel into new hull and machinery components
Volunteers with trade skills are especially valuable, but, many volunteers in this team come from other walks of life and quickly learn skills in this area. Their contribution in riveting teams and trade assistance is invaluable.
Electrical
This team install electrical systems into John Oxley – Again, trade skills are needed for actual wiring connections, however, volunteer trade assistants are running cables and helping to install cable trays and switchboards.
Painting
Essential on any ship! You can descale and paint, expecially as refloat approaches
.
Contact – email info@shf.org.au or phone 02 9298 3888
.
Main workdays – Tuesday, Wednesday, Thursday, Friday and Saturday – The worksite is usually open from about 0700 to about 1500 – Volunteers determine their individual start and finish times.
Restoration Site Safety – Working clothes, steel capped workboots and hard hats are mandatory.